Start a Drop Shipping Business in 4 Easy Steps
What is Dropshipping?
Dropshipping is a retail fulfillment method where the merchant is independent of owning an inventory and the responsibility of tracking and shipping the product, instead, when a sale is made the manufacturer or wholesaler ships the product directly to the customer. Keep in mind the relation of dropshipper and the merchant is hidden from the consumer.
What are Dropshipping companies?
Dropshipping companies gather different manufacturers and suppliers to a platform and allow e-commerce stores to partner with them in dropshipping business. E-commerce stores then import the products from these directories to their website and are made available for shopping.
One of the most popular dropshipping company is AliExpress.
How Dropshipping is different from classic commerce model?
In classic commerce model the store buy goods from the supplier, and is responsible to manage sales and shipment to the customer as shown below: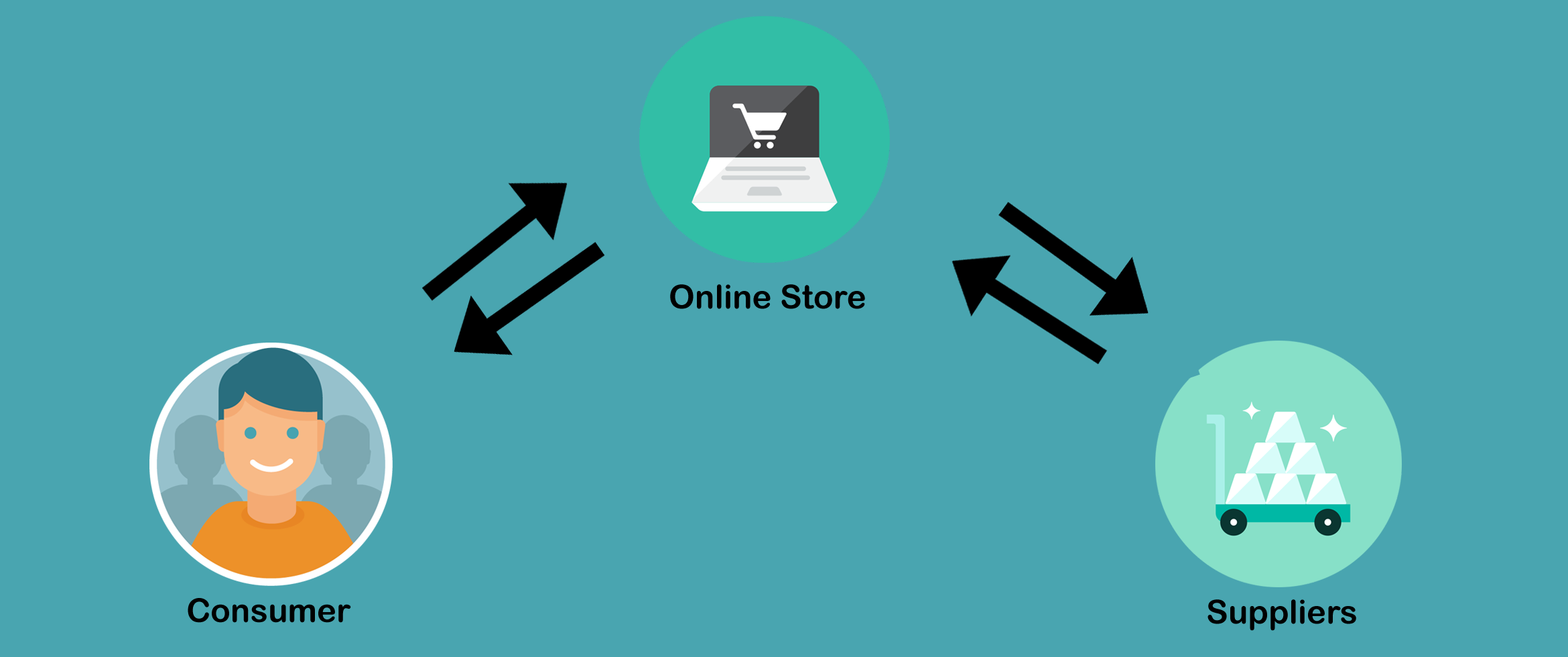 while in dropshipping the store is only responsible to make sales, they don't need to manage order fulfillment as it done by the suppliers.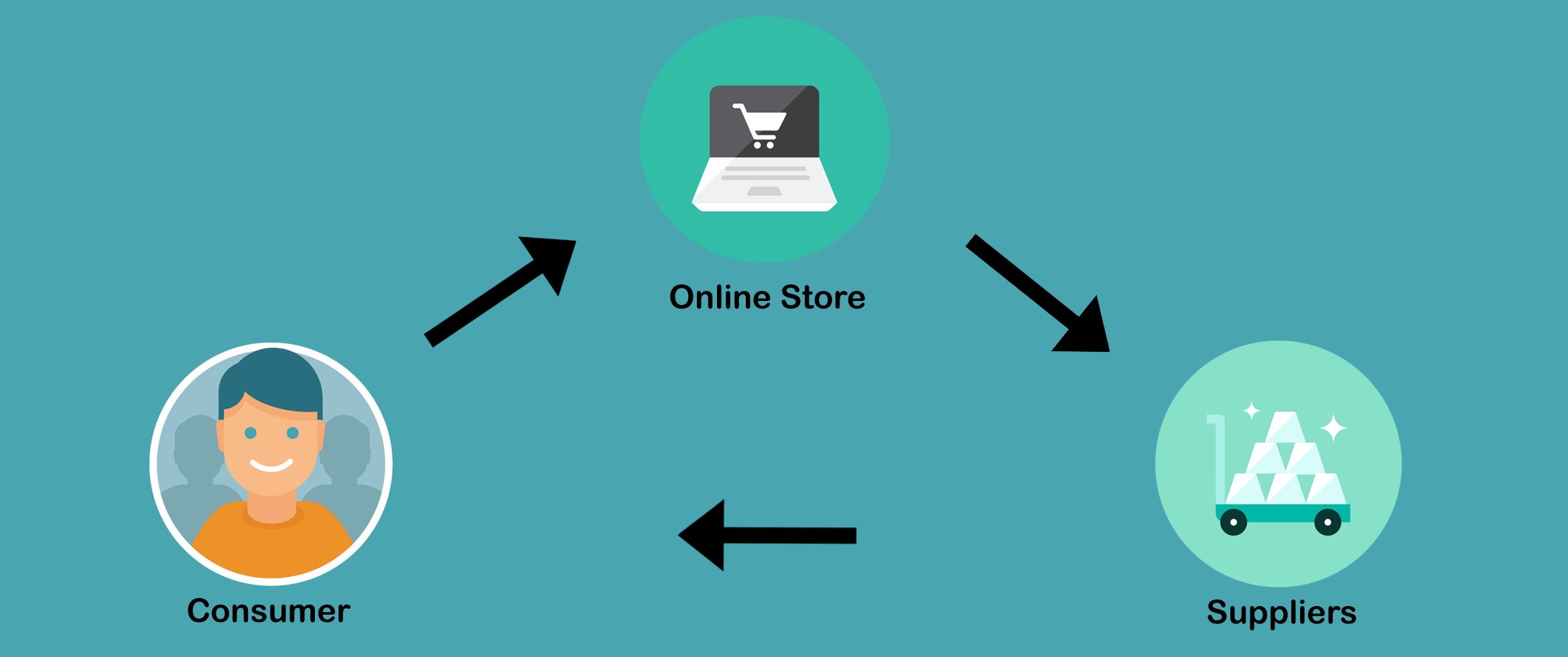 Why Start a Dropshipping Business?
Inexpensive to Begin
One of the most appealing aspects is very low initial investments, the dropshipping business model allows the retailer to start his/her business without building an inventory, which subtracts the cost of owning and maintaining stocks.
Easy to start
Without the need of managing physical products, it becomes a lot easier and less time consuming to start an online store.
Can be setup pretty much anywhere
You can manage your online store from anyplace that has a computer and an internet connection.
Very Low Overhead
Running a dropshipping business has very low expenses, in fact, it can be run from a house with a laptop, surely the expenses will increase as the business grows, but they still are relatively low compared to running a store on a traditional retail model.
Deliver only when a sale is made
The store will only contact the supplier when a sale is made that means the store will already have capital on hand to buy what the customer purchased, this omits the need of an investment.
Unlimited Range of products
There are dropshipping companies that provide more than 8000 suppliers in their directories with access to over 1.6 million products at a time. The store can choose whatever they want to sell and which product can give them better profit margins.
How to become a dropshipper?
This Dropshipping guide will help you to become a dropshipper. You will need to follow these 4 steps to become a dropshipper:
1. Find Suppliers
You need to find a reputable supplier who can provide a wide range of products at competitive prices and quick delivery time.
2. Find a niche
Find a range of product that you think you can sell at good profit margins.
3. Choose a Platform
Choose a platform to start dropshipping website. You can use magento, shopify, woocommerce and bigcommerce.
4. Market your niche
Marketing is essential part of dropshipping for e-commerce website, both organic and paid traffic can make your website a brand which will help you.
Some Shortfalls
Low profit Margins
As it is easy to start and requires very low investments, many dropshipping store lower their profit margin to pick up their business and earn more revenue.
Stock management issues
In dropshipping it becomes difficult to keep track of available stock as it is managed by the suppliers who are in contact with other businesses, so your required product may not always be available. But this can tackled by good communication.
Numbers behind Dropshipping business?
There are reports that claim that people reached to a monthly income of above $10,000 from dropshipping, and they did it in just 5 - 6 months. Considering the fact that it requires very less capital to start, monthly income of that amount is excellent returns.
Choosing an Ecommerce Platform
Let us list some popular ecommerce platforms that can be used to build dropship store.
Magento (Free but cost of installation and development is variable)
Shopify starting $29 est.
Bigcommerce $30 est.
Woocommerce (free)
Although the starting cost is low the cost of hosting and development will include managing the store.
Marketing
The next most important step is marketing your brand and it takes the most of your budget. There are several effective methods of digital marketing.
SEM (Search Engine Marketing)
SEO (Search Engine Optimization)
Social Media Marketing
Email Marketing
Profit Gains
It all depends on finding the right niche. Low-cost products are most profitable usually under $100, it can give you 50% on cost and items that are heavier cost a lot more because of the shipping they give around 10% - 15%. It's recommended that you find a niche that is relatively new or are not marketed very well. A case study on BeercapMaps.com shows how $10,000/month is achievable, they sell Beercap maps for $80 that are easily available on Aliexpress for $20, if you are spending $20 - $25 on marketing, you still save $35 - $40, all you need to do is generate 8 sales per day and viola! You are making $10,000/month.
AAlogics provides services that can help you in starting an online drop shipping business. We provide certified Magento 2 web development, front-end development and SEO services that you can use to manage your existing e-commerce store or create a new one from scratch. Recently we have developed a Google Chrome extension that imports product data and place orders at suppliers account at the same time from AliExpress. We also create custom extensions that can serve the purpose you require.