How To Effectively Manage Attendance Of The Employees With Odoo
by salman_khan
July 3, 2023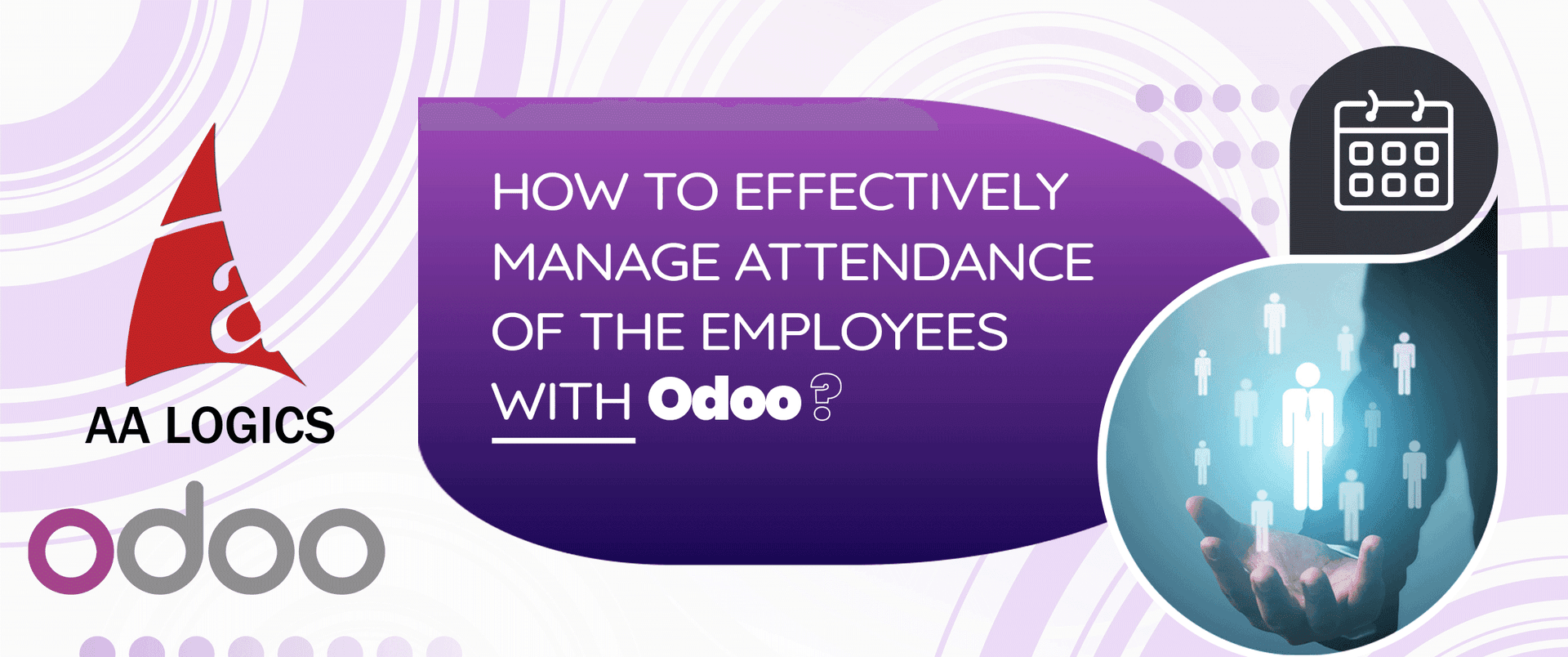 Introduction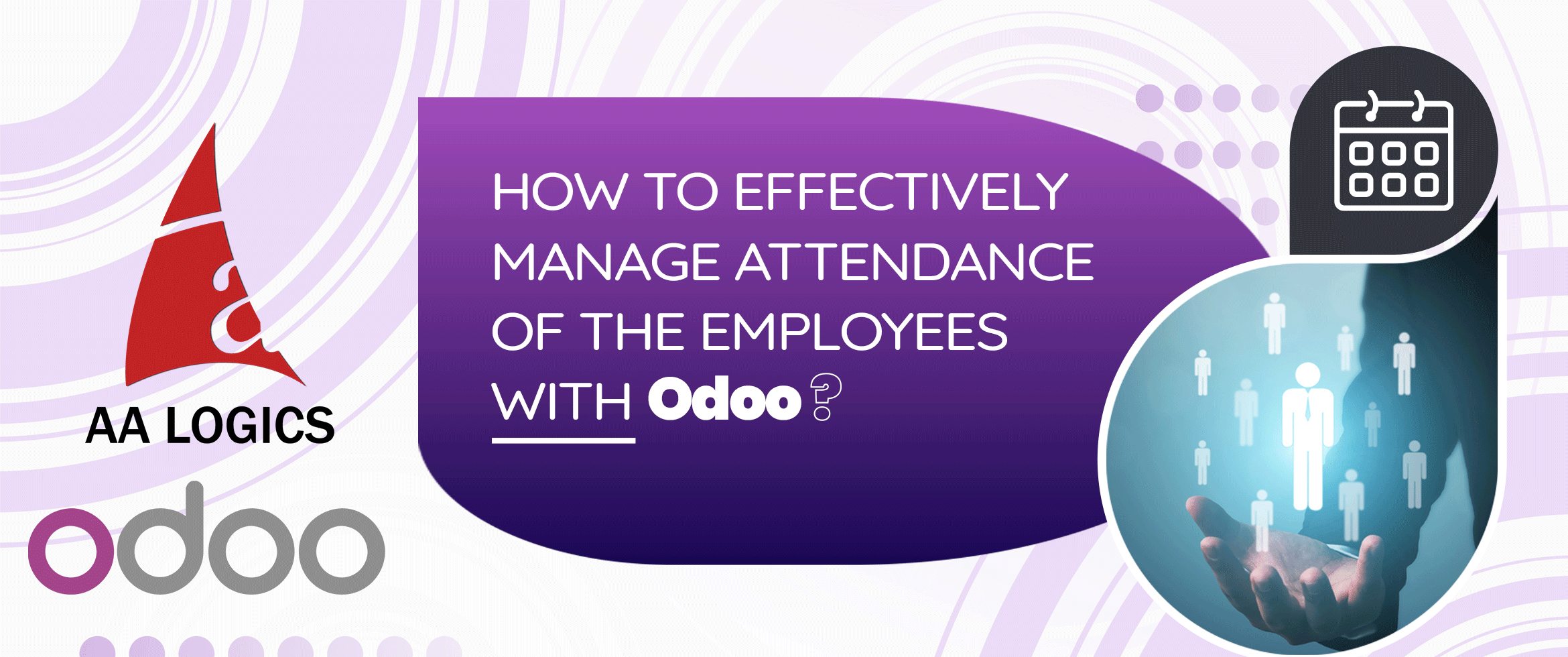 Empower your human resources management with AALOGICS advanced HR solution that simplifies employee lifecycle management, automates tasks, and provides valuable insights for strategic decision-making. Effective management of employee attendance is crucial for businesses to ensure productivity, track working hours, and maintain accurate payroll records.
With the help of the AALOGICS Employee Attendance Odoo module, comprehensive business and attendance management becomes more streamlined and efficient. In this blog, we will provide a detailed guideline on how to manage the attendance of the employees with AALOGICS Employee Attendance Odoo module.
Managing employee attendance is an important part of running a successful organization. Irrespective of your business type, your company relies on individuals to carry out its operations, making them a valuable asset. To ensure optimal utilization of working hours, it is essential to monitor the work schedules of each employee.
Maintaining a comprehensive record of employee attendance is crucial for accurate payroll management. Monitoring employee attendance is a core responsibility of the human resource department, and the absence of an effective time and attendance tracking system can pose challenges in their operations.
Fortunately, the AALOGICS Odoo ERP system offers a solution by facilitating the efficient management of employee attendance through the timely recording of working hours. Unlock the full potential of your business operations with experienced ERP consultants and developers, ensuring seamless integration and customization for enhanced productivity and efficiency. By utilizing the Attendance module in Odoo, you can gain the capability to accurately monitor and log employee attendance.
When attendance is manually recorded, the possibility of errors increases significantly. Additionally, this process can be time-consuming and prone to instances where individuals forget to mark their attendance, leading to complications in payroll operations.
However, AALOGICS Odoo's Attendance module provides a fully automated tracking tool that effectively eliminates errors and swiftly captures all relevant information related to employee attendance, ensuring fast and precise record-keeping.
If you are looking to enhance your business's Odoo implementation then Hire dedicated Odoo developers. They possess the expertise to optimize your workflows and deliver tailored solutions. The Odoo attendance module is a comprehensive attendance management system that offers a full view of employee working time data, which can be seamlessly integrated with other HR activities. It empowers companies to monitor the working hours of remote employees, regardless of their location.
With just a few clicks in Odoo, users can effortlessly generate reports on various aspects such as hours worked, absences, overtime, late in, half day, short working day, early out, missing attendance, unannounced leave, announces leave, missing timesheet, Saturday on, remote work. It diligently records the attendance details of each employee who logs into the office.
Odoo consistently strives to minimize complexities associated with managing business processes, and the Attendance module ensures smooth management of employee working time, ultimately enhancing productivity. This blog focuses on effectively managing employee attendance in Odoo through the utilization of the attendance module. It provides a comprehensive overview of the module's functionalities and ease of use.
To access the Attendance module, you can locate it in the Odoo App Store or visit the employee attendance penalty Odoo module and proceed with the installation to unlock its features.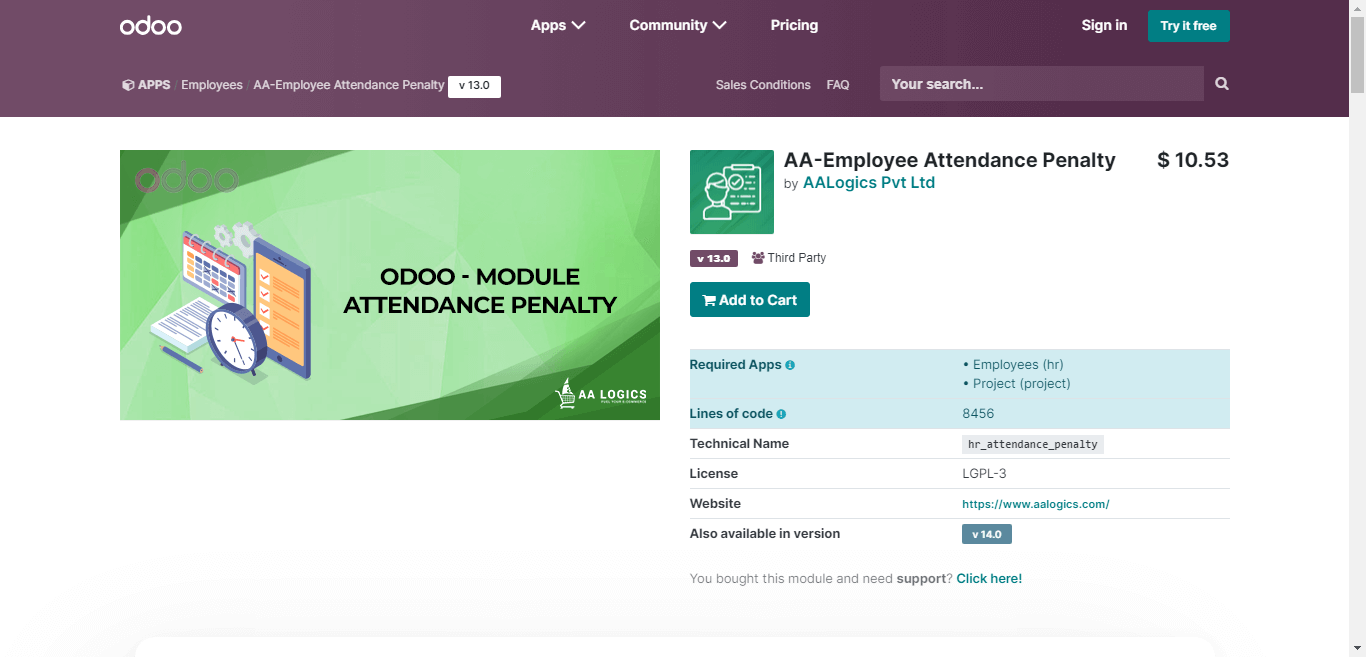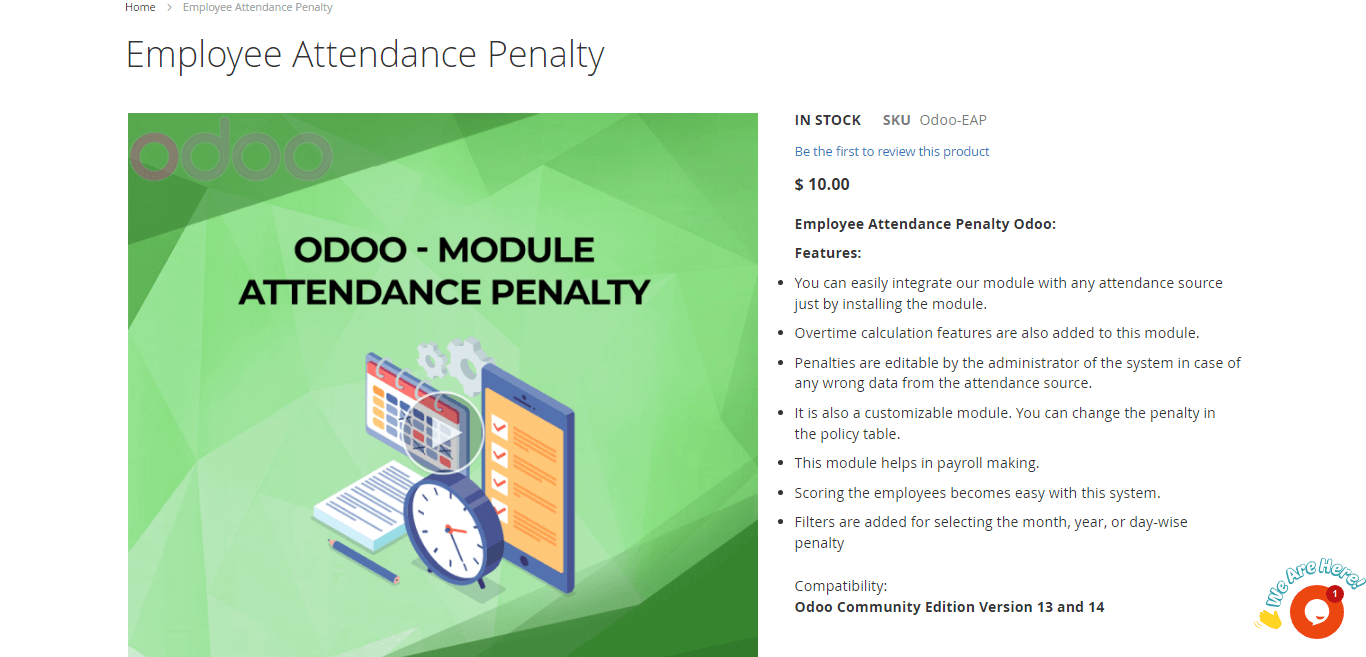 Easy Check-in/Check-out Option
Upon successfully installing the module and opening it, you will be redirected to the check-in/check-out platform within the Attendance Module. This feature allows you to easily record your precise arrival and departure times with just a few clicks.
By clicking on the arrow to check in, your arrival time will be displayed, and your working hours will commence being recorded. The same button can be utilized for checking out as well. Your check-out time details will be displayed, similar to the illustration provided. Recording your arrival and departure time in an office becomes incredibly simple through this option.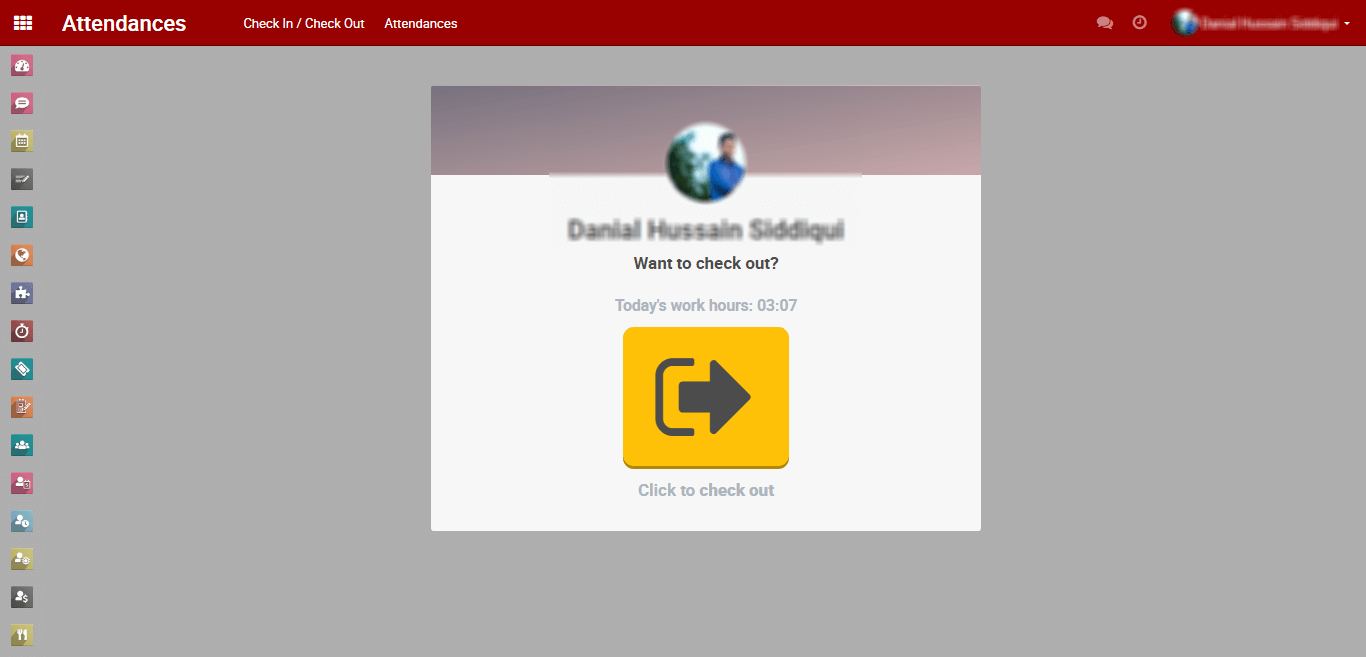 In the Attendance module, there are additional options for logging in to your office. You have the choice to utilize a barcode entry or either use your thumb to check in or enter a unique pin to register your attendance through it. It is conveniently located at the top of the Attendance module's dashboard.
Each employee in the company will possess a fingerprint check-in or distinctive identification card that includes a unique barcode. This barcode enables them to easily log in to their workplace by scanning the code. The generation of both the barcode and unique pin can be done within the employee's profile under the HR setting tab. Within the designated field, you have the ability to generate a unique pin and barcode.
Typically, this task is performed by the company's manager or HR officer. A barcode specific to each employee can be automatically generated from the relevant window. The employee can then utilize this badge to conveniently register their attendance. In order to make use of the pin first, you should enable the 'Employee Pin' option available in the configuration menu of the Attendance module.
In the employee attendance Odoo module, there are three options available to register your attendance: 'Scan Your Badge' or 'Identify Manually' or 'Fingerprint check in'. In the 'Scan Your Badge' option, you can utilize the barcode provided on your badge to easily mark your attendance by scanning it. In the finger price check-in option, you can simply just check in with your finger.
Alternatively, if you choose the 'Identify Manually' option, you will be redirected to the employee dashboard, where you can select your respective employee profile and enter the associated pin to record your attendance. You can use the same procedure to mark your check-out time.
Overview of Attendance
Within the Attendance module, you will be provided with a comprehensive summary of daily attendance details for all employees. By selecting the 'attendances' option from the drop-down menu under the 'Manager' tab in the main menu bar of the Attendance module, you will be presented with a tabulated representation of employee attendance data.
On this platform, you have access to the daily attendance log for all the employees. It displays the check-in and check-out times of each employee, along with their total daily working hours. The HR department can export this file for various purposes related to employee attendance.
Reporting of Attendance
To analyze each employee's weekly, monthly, and yearly attendance, you can use the 'Reporting' feature available in the Attendance module. The reporting platform offers a range of graphical views, allowing you to switch between different models based on your specific needs.

You have the flexibility to apply both default and custom filters to analyze the attendance report of employees in your company. This analysis helps measure their performance and level of dedication to the organization. Within the attendance report's pivot view, you can effortlessly capture attendance records and store them in the company database in spreadsheet format.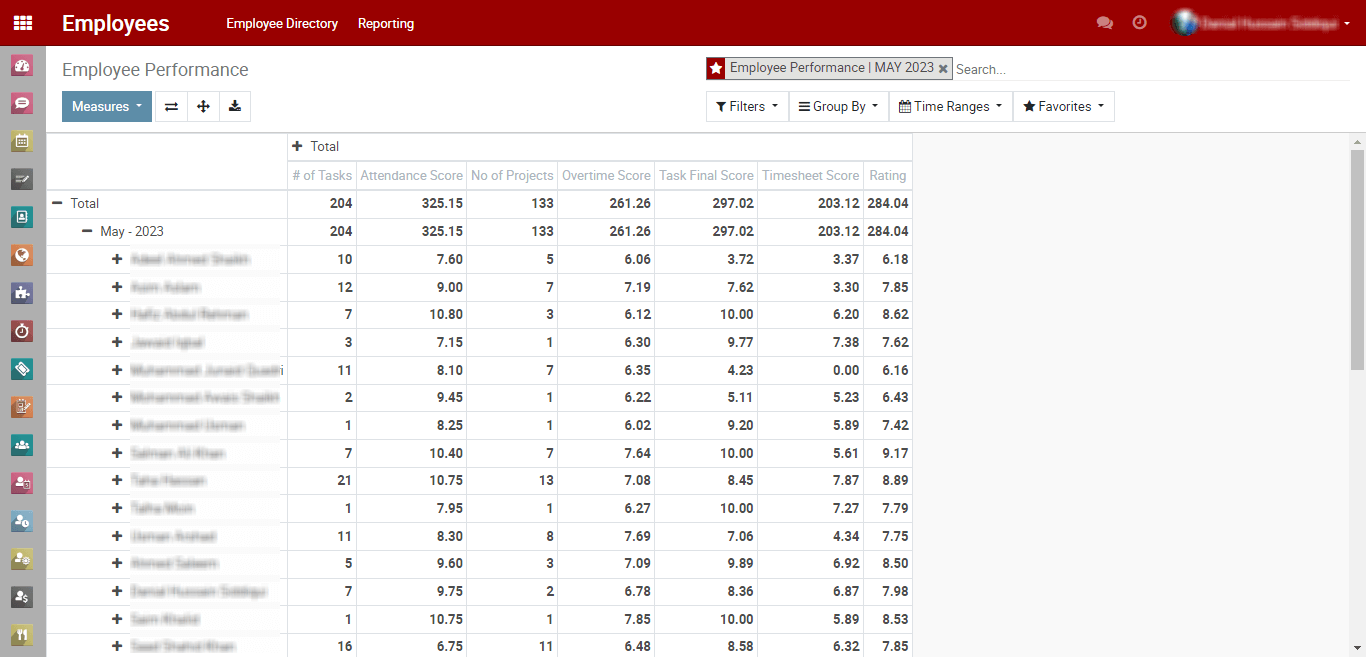 These records can be utilized for payroll and performance evaluation purposes. This exemplifies how the Odoo ERP system aids in effectively tracking employee time and attendance. If you seek a swift and efficient attendance management system, Odoo's Attendance Management module is undoubtedly a reliable choice.
Streamline your business processes and achieve greater operational efficiency with comprehensive Odoo services tailored to your unique requirements and industry-specific needs.